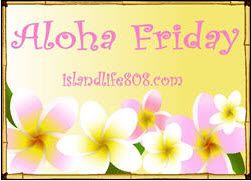 Welcome to this week's edition of Aloha Friday.
This weeks question is:
For Those Of You Who Have Children, How Old Were Your Children When You Put Them In A Toddler/Twin Bed From The Crib?
My oldest was about 3 years old when he went into his own toddler bed and now we're going to be doing it soon for our 2nd child who will be 3 on the 31st!
Join the fun
here
.